Here is a snippet of what i have been working on in the last couple of days
I was asked by a friend to do a Complete Template for her 10 Year Old daughter,
I Said Yes no problem, Thinking flowers perhaps , pink maybe?
Nope she wanted BLOOD! - Red & Blacks with skulls with glowing red eyes,
I set to work with a bit of a resistant as i honestly didn't know how this was going to turn out.
But oh My all i can say is i was no fan of red and skulls, But after making this it was hard for me to hand it over! i wanted to use it myself
She had a Complete Bespoke Template, With Header that is built into the template, All Fonts colours changed to match, 4 animated logos, 1 Watermark
I'm very pleased to hear that when a little girl got home from school she was very excited about her new look Blog.
(please click on the image above to enlarge for a better look)
Or goto Her blog to see it in real life - as you wont see the animated Header on here but you will on her blog
(just click on her Banners below)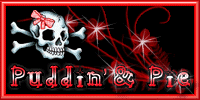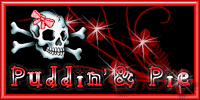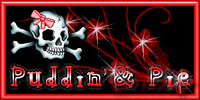 and here is her Watermark
And this is her Mothers Watermark i also done